After the long cold winter, it's always a relief to get out of our heavier clothes and show off our curves in flattering outfits. It's also the opportunity to wear brighter colours and prints.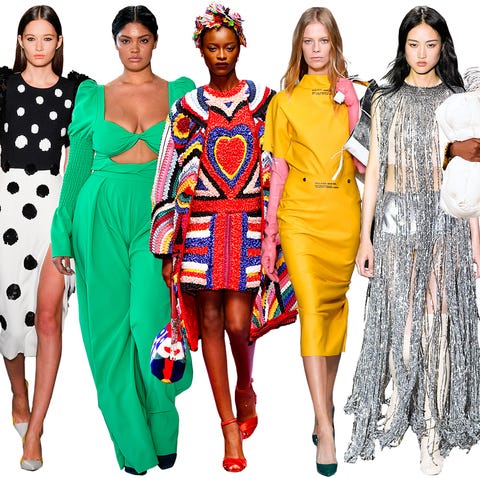 Remember that if you're short of cash after the spring break, personal loans can help pay for these must-have garments and accessories. Click for more info.

So, what are our 10 top fashion tips of things to buy to brighten up your wardrobe?

Slip dresses
This lingerie-style soft and silky garment of the 90s is back! Its figure-hugging design, plunging neckline and slits at the side will make you feel 100% feminine. The new version for 2019 is of varying lengths from mid-thigh to ankle-length while plain materials have been replaced with prints and extra embellishments such as ruffles and sequins.

2. Denim jacket
A denim jacket is a staple of every woman's wardrobe for those days or evenings when there's a chill in the air. Instead of the classic blue or black, designers have created them in pastel shades of lilacs and pinks this year. This jacket will go perfectly with both jeans or sundresses.

3. Tassel top
The bohemian style has been making a comeback for a few years now. The latest version of boho chic is a full blouse trimmed with tassels. Available in bold prints and polka dots, this separate is extremely eye-catching and gives you many styling options from casual to office wear.

4. Sneakers
From slim athletic-style sneakers to chunky dad-style, choose sneakers which flatter your feet and are comfortable. Whether high- or low-top, this year's sneakers are available in a range of prints and patterns. Buy some glittery socks for that extra 'Wow' factor.

5. Light- or pastel-coloured jeans
No woman has fewer than 4 pairs of jeans, but this year's designs in lighter shades of pink or white are perfect for the spring-summer season. Choose a button-front style with decorated buttons and intricate stitching around the pockets. Whether teamed with a lacy top or a plain T-shirt, these jeans can be worn on any occasion.

6. Bell-sleeved pullover
For those cooler evenings, why not update your wardrobe with a bell-sleeved pullover? They are available in lightweight materials and are extremely versatile – whether you choose to team it with your pastel-coloured jeans or a floral skirt.
7. A tailored blazer
A well-tailored blazer can be extremely flattering for your figure. Choose a shade which suits your colouring and your wardrobe colour palette. Perfect for work or worn with jeans or floral skirt on more informal occasions, this is one purchase you won't regret.
8. Floral dresses
Flower Power is back in fashion. The latest must-have item is a long- or capped-sleeved floral print dress. A tie-front style is especially flattering for most body shapes as it draws attention to your waist.

9. Fashion accessories

Of the many fashion accessories on offer, choose a straw tote bag to match the pastel shades of your new wardrobe. Baker boy caps are still in fashion too. Instead of buying a fabric one, try something different and go for leather instead.
Happy shopping! And remember – if you have any reason for dissatisfaction, you must know how to make a complaint.